10 Tips For Electrical Safety At Home
Almost every home in North America has electricity. It gives us the ability to power a lot of our current-day amenities such as being able to turn on lights when it's dark outside, watch television, and cook food.
And while we are extremely lucky to have electricity, it's important to remember that electricity can be dangerous if not handled with care.
When we don't treat electricity with the care that it requires, it can result in shocks, burns, fire, and even costly repair bills for your home.
So, if you want to learn how to protect the safety of everyone in your home, and prevent fires as well as costly repair bills, then keep reading for our top tips for electrical safety.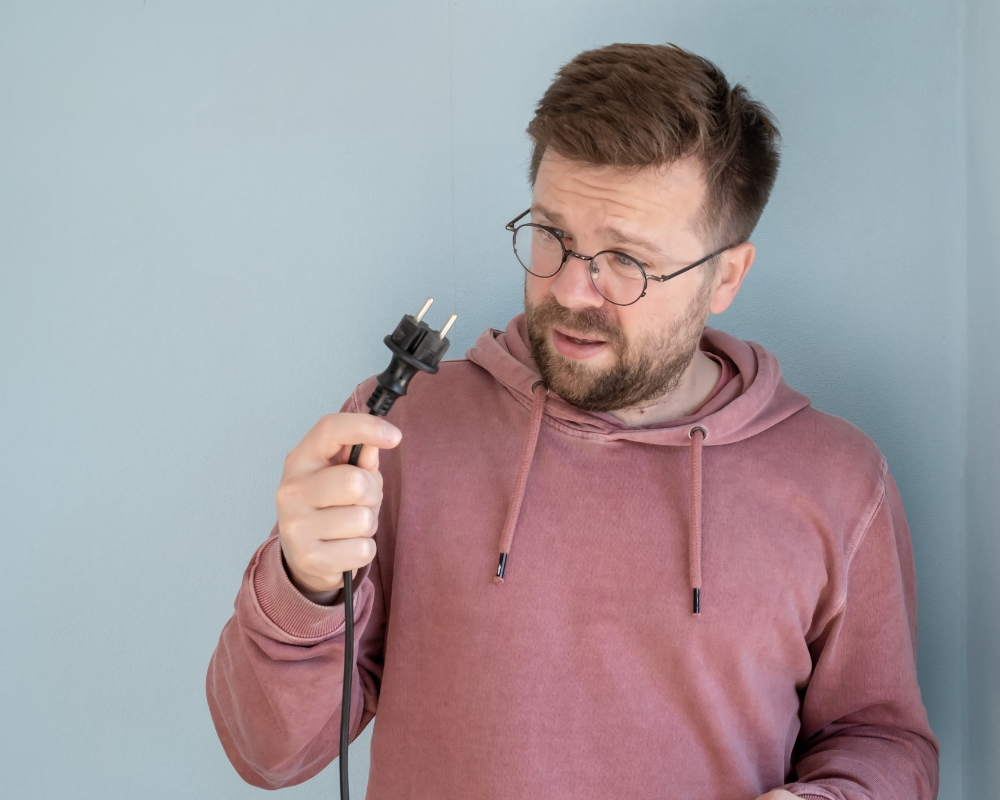 Regularly Check Cords For Damage
Over time, cords can become damaged. Especially if they are cords that are used throughout your home regularly.
To avoid any shocks, burns, or fires from damaged cords, make sure you are thoroughly checking them frequently. You want to look for cords that have become frayed, cut, torn, etc. If you find any damage to the cord at all, make sure to replace it immediately.
Avoid Running Cords Under Rugs, Furniture, Etc.
Another common mistake when it comes to electrical safety is running cords under furniture, rugs, etc. This is something that has become common practice to make your home look better. However, doing this can cause the cords to become damaged or overheated because they are being blocked off from air and ventilation.
For this reason, one of our top tips for electrical safety is to make sure that all of your cords are laying flat on the ground with proper airflow.
Plug Power-Heavy Items Directly Into An Outlet
For any items in your home that use a large amount of power, such as a refrigerator, space heater, etc., make sure to plug them directly into an outlet. You should never plug these things into extension cords or power strips.
This is because power-heavy items draw significantly more energy than smaller appliances and items in your home would. So, if you are plugging them into a power strip, there is a very good possibility they will overheat and can create a fire hazard in your home.
Another item that should always be plugged directly into an outlet is a computer. The power bricks that come with any standard laptop or desktop computer will draw much more electricity than the power brick that charges your cellphone would. So, to prevent overheating and the risk of fire, make sure you are plugging your computers directly into the outlet on your walls.
Don't Overload Extension Cords
This doesn't mean you can't use extension cords or power strips in your home. These are a great way to get electricity to smaller items in your home such as a lamp or a phone charger. However, make sure you are not plugging too many things into one extension cord. This can cause an electrical overload which can lead to overheating and a fire hazard.
In addition to that, make sure you are spreading out your extension cords. For example, you should never plug two extension cords into one outlet.
We also recommend unplugging extension cords and power strips when they are not in use. This will help to prevent electrical overloads as well as reduce your electricity bill.
Unplug Appliances When Not In Use
Another electrical safety tip you should follow is unplugging appliances, lamps, chargers, and so on when they aren't in use.
Doing this might feel like an inconvenience. However, it saves energy lowering your power bill as well as reduces the chance of electrical overloads or fires.
Spread Out Plug Use
A common mistake a lot of homeowners make is not spreading out which plugs are used. Think about your bedroom for a moment. I would almost guarantee that most of your stuff is plugged into just one or two outlets.
Another room in your home where this is common is the kitchen.
The problem is, if you plug everything into one outlet, you risk the possibility of an electrical overload and a fire hazard. This is especially true in a room like a kitchen where there are a lot of power-heavy applicants being used.
To avoid this happening in your home, make sure you are spreading out your plug use throughout the room.
For example, if you have a microwave, toaster oven, coffee maker, etc., make sure they are not all plugged into the same outlet. Spread them out so that each appliance has its own outlet.
Put Covers On Unused Outlets
Anyone with young kids in their home should absolutely have covers on their unused outlets. This is because it is so easy for a young child to stick something into it which can result in severe shock, burn, or electrocution.
These covers are relatively inexpensive, and honestly, you can't put a price on safety. You can find outlet covers at any local hardware store, Target, Amazon, and so on.
Make sure that everyone in your home is using these covers whenever they unplug something. It can even be helpful to have an extra stash of them in case any get lost.
Install GFCI Outlets
If you want to take electrical safety in your home to the next level, consider replacing your builder-grade outlets with Ground Fault Circuit Interrupter outlets. These are easy-to-install outlets that will help to protect you from electrical shocks as well as prevent fires.
These outlets monitor the amount of electricity going into your home and will detect problems. If it does happen to detect a problem, then it will immediately shut off power to your home so that electrical shocks or fires can be prevented.
Install Waterproof Covers On Outdoor Plugs
Often, outdoor plugs are left open to the outdoor elements. The problem with this is they can become wet or damaged resulting in overload, fire, etc.
To avoid any problems with your outdoor covers, we recommend installing waterproof covers on them. These covers are fairly cheap to buy and are very easy to install.
Use Surge Protectors
Power surges are not good as they can damage your electrical items. This is especially true for computers, TVs, and other expensive electronics. To avoid this happening to you, consider using surge protectors.
Surge protectors have been designed to absorb the extra voltage so that it doesn't damage your electronics and cause an electrical overload. They are also relatively inexpensive and easy to install.
Use Correct Wattage Bulbs
One of the most common causes of electrical fires is using incorrect wattage bulbs in light fixtures. This happens when you try to use a bulb that is too powerful for your fixture and it begins to overheat.
To avoid your light fixture overheating and causing a fire, make sure that you are using the correct wattage bulbs in your light fixtures.
When in doubt about what wattage of light bulb you should use, consult the owner's manual of your light fixture or consult a knowledgeable electrician.
What Electrical Repairs Are Covered Under Home Warranty?
Did you know that some indoor electrical repairs can be covered under a home warranty? Some examples of things that might be covered include switches, outlets (without GFCI upgrade), breakers, and more.
Check out HomeMembership's home warranty plan to see what would be covered under your warranty.
If you ever experience any issues with electricity in your home, make sure to contact a professional electrician right away. They will be able to assess the situation and make sure that a proper repair is made.
By following these tips for electrical safety in your home, you are ensuring that you and your family are safe from electrical hazards in your home. We hope that this has been helpful to you.
If it has, consider sharing it with someone else who you think could benefit from learning more about how they can keep their home safe from electrical hazards.